Huntingdon park stabbing: Mother appeals over death of Sam Mechelewski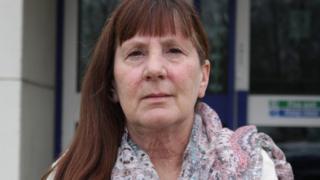 The mother of a man killed by a stab wound in a park has called on people with information to "do the right thing" and go to the police.
Sam Mechelewski, 20, from Huntingdon, Cambridgeshire, was found dead in the town on 1 February in what police think was a "targeted attack".
His mother Grace Groom, 52, said her son's death was "crippling" and had hit her "like a tsunami".
She said in a letter to the media: "The loss we feel for Sam is un-ending."
Police diving teams have searched a pond in Hinchingbrooke Country Park, where Mr Mechelewski was found, and asked for information about a black Audi A3 seen in the area on the evening of 31 January.
Police have not said if a murder weapon has been recovered.
Ms Groom said: "My son's life was taken by an act of violence six months to the day before his 21st birthday.
"He was left in the dark with no-one to hold him and tell him he was loved in the last precious moments of his life.
"I am asking anyone who reads this and knows who is responsible or anyone who has information that they have not given to the police - please put yourself in our shoes. What would your parents do if this was you?"
She also addressed her son's killer in the letter.
"I have no forgiveness or understanding for what you have done," she said.
"One day your family will have to face the truth of what you have done. I feel genuine sadness for them. They will know that you did this terrible thing."
As part of the investigation a woman has been arrested on suspicion of perverting the course of justice and assisting an offender.
Last month, a man in his 20s from Chatteris, Cambridgeshire, was arrested on suspicion of murder and then released under investigation.