St Neots Loves Farm: Council approves 1,020 new homes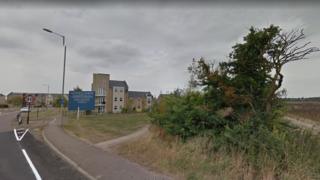 More than 1,000 homes are to be built on a greenfield site after they were approved by the local council.
Huntingdonshire District Council backed the second phase of the Loves Farm development in St Neots, east of the railway line, on Monday.
The scheme also includes a hotel, pub, primary school, play areas, allotments and sports pitches.
Gallagher Estates has already built 1,200 homes for the first phase of the development.
A report given to the council prior to approval said officers were seeking about £8.6m towards the cost of a school and money towards infrastructure and health provision.
The report said St Neots Town Council was concerned that plans for "more houses without adequate provision of employment will only increase the number of commuters".
The town council also had concerns about whether there was enough parking provision on the 1,020-home site.