Sixteen Foot Bank death: Man found drowned fiancee's car in ditch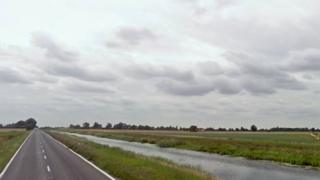 A man discovered his fiancee's car in a water-filled ditch when he went looking for her after she failed to arrive at a car boot sale, an inquest heard.
Sharon Taylor, 54, from Sutton, near Ely, died after overcorrecting her car and rolling into the ditch near Sixteen Foot Bank, Cambridgeshire, in October.
Ms Taylor was on her way to a car boot sale in Wimblington to meet her sister.
David Heming, senior coroner for Cambridge and Peterborough, recorded a conclusion of accidental death.
Mr Heming, sitting at Lawrence Court, Huntingdon, said she died by drowning on the B1098 at about 08:50 BST on 8 October.
Ms Taylor was found with no alcohol in her system and there were no defects in the car, leading the collision investigator to believe "she was momentarily distracted or inattentive".
PC Jason Porter said there had been a "sudden and excessive application of steering" and the car had rotated anti-clockwise before it began to roll and came to rest upside down in the ditch.
Her car was discovered by Malcolm Robinson, who had been her partner for about five years, after receiving a call from her sister who said she had not arrived at the sale.
He could not find her on a first attempt but went back in a larger car later, which allowed him to see down the bank and her blue Rover.
The court heard he went into the water but it was "too murky so I couldn't see in" and waited until emergency services retrieved her body.
A paramedic at the scene "realised the situation was not retrievable and confirmed Sharon had died", the court heard.