Cambridge Fen Road 'street race' leaves six cars damaged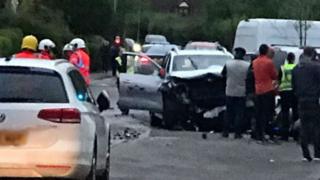 One person was injured and six cars and a wall damaged after a crash during an apparent road race in Cambridge.
The collision happened on Fen Road in Chesterton at about 19:30 BST on Tuesday.
One resident said she had been told "two cars were racing each other... at very high speeds" before the crash where they "slammed into a wall" and "smashed" into parked cars.
Police said they were investigating "high risk activities such as these".
A resident told the BBC there had been "street racing down the road since the late afternoon".
"One person who saw it happen told me two cars were racing each other down Fen Road at very high speeds towards Water Lane.
"One hit a car coming the other way, which caused a pile-up, and then slammed into the wall of the house next to the parking bays before smashing into the parked cars in the parking bay by the river."
Cambridgeshire Police and the fire service were called to the scene, where one person had sustained minor injuries.
"Investigations are under way and although thankfully no-one was seriously injured, this could have been a different story," Ch Insp Steve Kerridge said.
"The issue of excessive speed and anti-social use of vehicles in Fen Road and adjacent streets has been discussed through local area committees with residents and councillors over a period of some time."
He said while offenders had been prosecuted in the past, and vehicles seized, "it is evident that more must be done here".