Le Doodoowatch 'poo-shaming' map sparks interest in France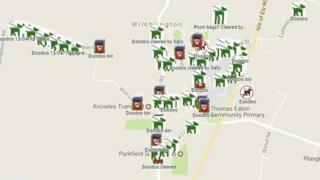 A village's "poo-shaming" scheme to combat dog fouling could be rolled out in a fight against faeces in France.
The "Doodoowatch" scheme saw residents in Wimblington, Cambridgeshire design an interactive map showing unwanted deposits and produce a guide to help others set up their own scheme.
Briton James Madelin, who lives part-time in France, plans to translate it.
He said while French authorities are trying to sort their dog mess problem, the map is a "phenomenal" idea.
Doodoowatch encourages users to report dog mess sightings which are marked on an online map, alerting public-spirited locals or the district council's street cleaning team.
Creator Amanda Carlin said media attention had drawn interest from as far away as Kuwait and dozens of UK councils and community groups have requested the new "how-to" packs she and the other dedicated "doodoo-watchers" began sending out last weekend.
One of these ended up with Mr Madelin, a British man who spends long periods of time in Tignes in the French Alps.
"Someone alerted me on Facebook as they knew I was concerned about piles of dog mess which we often see at the foot of ski lifts and outside restaurants," he said.
While the local council has its own scheme to clear it, he said he felt more needed to be done to help them keep on top of the problem.
He described the Doodoowatch fight against faeces as a "phenomenal use of technology".
The "how-to" pack includes advice on how to engage the community in the project, create a map and signage, liaise with authorities and deal with negative social media comments.
Mr Madelin intends not only to translate the manuals, but check the scheme will work in tandem with local French authority rules.
"What they have done in Wimblington in incredible," he said.