Cambridgeshire County Council backs HQ move to Alconbury site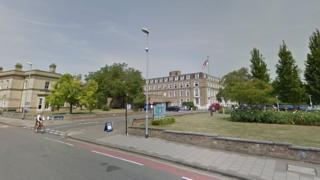 Cambridgeshire County Council has backed plans to leave its headquarters in Cambridge and move to new premises in Alconbury - more than 20 miles away.
The authority voted to vacate Shire Hall, which was built in 1933, in a move that could save £39m in 30 years.
At a meeting some councillors were concerned the new site, near Huntingdon, was "isolated", but others welcomed the savings.
The council hopes the move could happen by 2020.
The new HQ will be in the Enterprise area at Alconbury, on the site of the former airbase.
There were 35 votes for the move, 21 against, and one abstention.
Dilemma over money in HQ move
By BBC Radio Cambridgeshire political reporter Hannah Olsson
Cambridgeshire has been governed from Castle Hill in some form for the best part of a thousand years, and undoubtedly there's a certain charm about sitting on a spot where people have been debating for generations.
But just like many other organisations, the council faces the dilemma of whether to spend a lot of money modernising an old building, or building a shiny new one with all the accessibility and digital requirements you could desire.
With increasingly tight budgets, more often than not the purse strings win over the nostalgia, and that's certainly the case with Cambridgeshire County Council.
I'll certainly miss Shire Hall, but I'm sure the councillors coming to meetings from as far as Wisbech will be rather less wistful and welcome a more central location.
Liberal Democrat leader Lucy Nethsingha said she could not understand paying for a brand new headquarters when money should be spent on improving council services.
"The council's staff should be concentrating relentlessly on improving adult social care services," she said.
Conservative Martin Shuter said: "I think we all agree, this building [the Shire Hall] is not fit for purpose. Look how damp the ceilings are. There is paint coming off the walls."
Labour leader Joan Whitehead said: "We are concerned about staff and the people who work for us.
"The majority of the workforce lives in Cambridge. They will need to use the car to get to work. We are concerned about how they will get to work with no public transport."
The council voted to accept the recommendation that Alconbury was the best site, and to authorise the investment needed to acquire the plot.
A spokesman for the council said it could not say how much the new building would cost.