Part of cob-walled house collapses into Cornwall road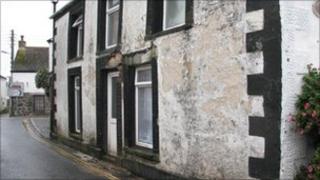 A road has been closed in Cornwall after part of a house fell on to it.
Firefighters were called at about 2345 BST on Sunday when parts of the front of Barnwood Cottage in the road - Churchtown, in Mullion - came away.
The road outside the property was closed for several hours by the county's highways department.
The female tenant and her four children were inside when the small section of cob wall fell into the road. No-one was injured.
'Funny noise'
The fire service said firefighters from Mullion were sent to the scene after a section above the front door fell on to the narrow road.
The road can only accommodate one vehicle at a time.
Kelly Mitchell-Bawden, who has lived in the house with her four children for about two months, said it was hit by a coach a few days earlier and a lorry a few days before that.
Ms Mitchell-Bawden said she was nervous and shocked after the incident.
She said: "Me and my eldest lad were just at the table playing cards last night and then heard this funny noise and then a crash."
Further inspections of the property are planned over the next two weeks, safety officials said.
Cob-wall construction is a traditional building method which uses clay, sand, chalk, straw and subsoil to make structures.