Brother's tribute after Perranporth surfing death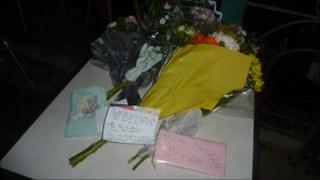 The younger brother of a teacher who died while surfing off Perranporth has paid tribute to his "loving" brother.
Matt Upsher, a 31-year-old PE teacher from Perranporth who had epilepsy, died while surfing with his brother, Tom.
The two became separated for about 20 minutes before Mr Upsher was found on Flat Rock beach. He was flown to the Royal Cornwall Hospital where he died.
Tom Upsher said: "Matt was the most loving, caring sincere and authentic person with a heart that reached out".
'Zest for life'
He said: "He was just somebody that everybody loved.
"Upon meeting Matt you got his soul, you got his spirit and you got his incredible and unstoppable zest for a life that he was determined to live."
Flowers and tributes have been laid at the beach and many of the students from Hayle Community School have left messages.
Mr Upsher said: "The amount of messages and phone calls and emails that I've received today has just been completely overwhelming and the support and the love and respect they had for someone that was such an important part of a very close-knit community."
The brothers had been surfing with friends on Monday night when they lost sight of one another.
"We had an unwritten rule that we all stayed in eyesight of each other, I lost sight of my brother," Mr Upsher said.
"I didn't see him come in at all so I raised the alarm with the coastguards.
"With the experience and the way that we always looked after each other in the water, and the amount of time that he'd spent in the water on his own, it was a natural instinct just to suspect the worse."
Falmouth coastguard was alerted and a St Agnes lifeboat and RNAS Culdrose rescue helicopter were launched after Mr Upsher was found at about 2000 BST.
An off-duty doctor who was in the area at the time gave Mr Upsher CPR before he was airlifted to hospital, coastguards said.
Chris Jackman, head teacher at Hayle School, where Mr Upsher had taught since 2001, had previously said: "We will miss him deeply and our thoughts are with his family and loved ones."
Police are not treating his death as suspicious.