Owners of fire death Penhallow Hotel to be prosecuted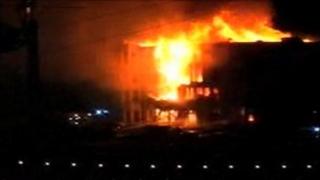 The owners of a Newquay hotel which caught fire, resulting in three deaths, are to be prosecuted for fire safety breaches, Cornwall Council says.
The Penhallow Hotel burnt down in August 2007. Peter Hughes, 43, his mother, Monica, 86, and Joan Harper, 80, all from Staffordshire, died.
About 90 people managed to escape from the fire at the 54-bedroom hotel.
Three other individuals were also to face charges for breaching fire safety, the council and fire service added.
More than 100 firefighters fought the blaze on 18 August 2007.
It is believed to have started in a hotel bar drink store and spread to the rest of the building.
Flames reached 30ft (9.1m) into the sky and the building, in Island Crescent in the town, was later demolished as result of the damage.
Summonses issued
The council said the charges were being brought following a comprehensive investigation into fire precautions at the building.
It was taking out the prosecution for alleged breaches of the Regulatory Reform Order (Fire Safety) 2005, it said.
Summonses had now been issued on both the owners of the hotel and three individuals employed by the company, the council said.
The first court hearing will take place at Bodmin Magistrates' Court on 21 October, it added.
Cornwall Coroner Dr Emma Carlyon recorded an open verdict at an inquest in June 2009 into the deaths of the three guests.
Investigators could not say for sure what had caused the blaze, although evidence given during the inquest suggested it had been started deliberately.
Four people were arrested and police launched a murder investigation, but all were released without charge.
The fire was described as the worst in the UK for nearly 40 years.
Mr Hughes, a teacher from Cheslyn Hay, Staffordshire, was described as "thoughtful, supportive and friendly" by his colleagues.
He jumped from the third floor of the hotel after trying in vain to save his mother, Monica, but died in hospital.