Thousands complete Crown Currency proof of debt forms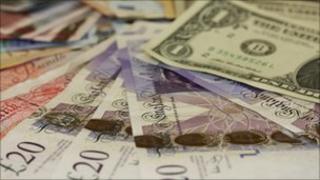 More than 8,000 people have completed forms to claim money back from a failed currency company in Cornwall, administrators have said.
Hayle-based Crown Currency Exchange (CCE) went into administration at the beginning of October.
Joint administrators MCR and SPW said that nearly £16.5m in claims had been registered through proof of debt forms.
The amounts the company dealt with in individual transactions ranged from £100 to £100,000, it added.
Property transactions
CCE allowed customers to pre-order foreign exchange at a set price up to a year in advance.
The administrators said the majority of customers had been acquiring foreign currency for use on holidays.
However, they added that, to a lesser extent, more substantial amounts were acquired for property transactions abroad.
The administrators said: "The value of the transactions typically ranged from £100 to around £20,000. However, there are several transactions in excess of £100,000."
They added that the case would take some time to "unravel" and that customers were only expected to recoup a "small percentage" of lost funds.
When CCE collapsed, customers were warned it could take up to six months before they heard if they would get any cash back.
CCE was not covered by any Financial Services Authority compensation schemes.
A meeting of creditors will be held on 30 November at the Metropole Hotel in Birmingham, the administrators said.