'Degenerate' paedophile ring member in Cornwall jailed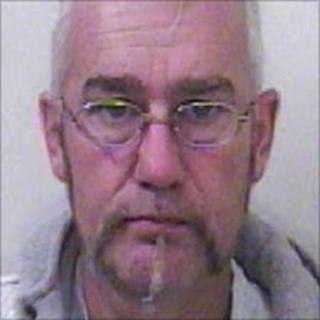 A man involved in a paedophile ring which police say abused dozens of girls has been jailed for 18 years.
James Machin, 54, from Falmouth, was found guilty last week at Truro Crown Court of 10 sex offences relating to girls under 13.
He abused two girls passed on to him by another member of the ring.
During sentencing, Judge Christopher Elwin described Machin, who had denied the charges, as "evil, predatory and degenerate".
Three men abused the same two girls, the court heard.
John Barrett, 49, from the Camborne area, abused two girls, who were aged five and seven when the crimes first started, and passed them on to John Wrey and Machin to do the same.
Victims given drugs
Barrett was jailed for 14 years and 6 months in 2008 for 16 sexual offences.
Wrey, 55, from Hayle, who was arrested at the same time as Barrett, is serving a five-and-a-half-year sentence for his part in the abuse after he was also convicted in 2008.
The court heard the men left messages for each other in public toilets.
The jury was also told that Barrett and Machin took two young girls to a house at Flushing, near Falmouth, where they abused them.
The girls were given cigarettes and sometimes had to sniff drugs during their ordeals.
The court heard that Machin tried to cover his tracks by steam-cleaning the inside of his black Mercedes van.
He also tried to erase the hard drives of two laptops which contained child pornography.
Judge Elwin said there was "no mitigation" for Machin's crimes.
He said: "You are an evil, predatory and degenerate paedophile who has inflicted serious psychological damage on very young children.
"The chances of them leading psychologically and physically normal lives is remote."
Machin appeared in court wearing a neck brace.
Police said they understood he fell down a flight of stairs in prison over the weekend.
Machin, Barrett and Wrey were arrested as part of a three-year police inquiry named Operation Lakeland.
Devon and Cornwall Police said it was one of the largest and most complex sex abuse investigations its officers had ever dealt with.
The force said detectives had spoken to 30 victims and there were concerns there could be more.