Cornwall roads improve and schools reopen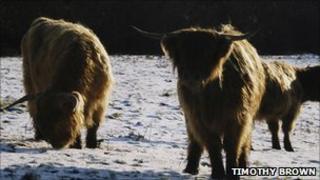 Road conditions have improved in Cornwall after heavy snowfalls earlier in the week.
The highways authority, Cornwall Council, has used more than 300 tonnes of grit on the roads out of a total stock of 10,500 tonnes.
There are currently no reports of major road closures, while forecasters are predicting light snow flurries later. Gritting lorries will be out overnight.
Temperatures are due to reach -2C overnight, the Met Office said.
Cornwall Council, which has produced a list of affected schools, said only one school - Trennack Community Primary School near Helston - was closed on Wednesday and about 20 opened late.
There were no reports on the BBC travel website of any major roads closed.
Met Office forecasters are predicting snow flurries later in the South West, with higher accumulations likely on high ground around Bodmin Moor and Carnmenellis Hill.
Cornwall Council said it was sending out gritters to cover the north, central and southern areas of the county at about 0030 GMT because heavier snow was forecast from the east.
The lorries would be out in the west from 0400 GMT, it added.