Woman and four children escape from Penzance house fire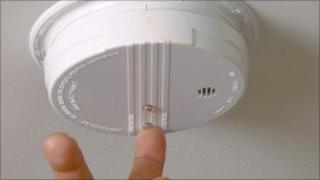 A woman and four children have escaped from a house fire in Penzance.
Crews from Penzance, St Ives, St Just, Truro and Falmouth tackled the fire at the property in Melbourne Terrace after the alarm was raised at 0530 GMT.
Cornwall Fire and Rescue Service said the family, who had been sleep when the fire started, were alerted to the danger by a smoke alarm.
No-one was injured and a fire investigation team is at the house to determine the cause of the fire.
Incident commander Andy Barrett said working smoke alarms had been "crucial" in alerting the family to the danger.
'Smell fiction'
"The alarm woke mum up and she was then able to rush downstairs to rescue two of the children who had been sleeping in the living room," he told BBC News.
"She was then able to go back upstairs and rescue the other two children and they were were all able to get out before the fire caught hold."
"This is a very good example of why we continually try to reinforce the smoke alarm message - they save lives, it's that simple.
He said it was "fiction" that the smell of smoke alone would normally be enough to wake a sleeping person and it was the smoke and invisible gases given off by a fire that were the most dangerous.
"I just can't stress enough how important a working smoke alarm is," he added.
The downstairs of the property has been severely damaged by the fire.