Cornwall surgeons use new scan for knee replacements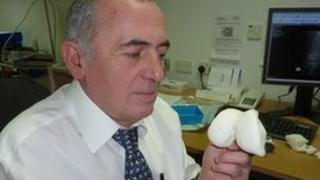 Surgeons in Cornwall are using a new technique which they claim will enable more accurate surgery to help knee replacements last longer.
Staff at Truro's Duchy Hospital are using MRI scans to make a mould enabling them to create a "perfect replica" of a patient's knee.
Orthopaedic Surgeon Mike Regan said the scans allowed more accurate surgery than traditional X-rays.
He said he hoped the technique would eventually be used across the NHS.
'Perfect replica'
Mr Regan said: "It involves patients having scans of their hip, knee and ankle, and then a 3D model is made of that patient's knee.
"The model is a perfect replica."
Graham Stone is one of only two patients in Cornwall to have received replacement knees using the new technique.
"You lie on your back, they put you into a tunnel and take the images - there's nothing to it," he said.
According to Cornwall Primary Care Trust, a traditional knee replacement costs about £5,000 and about 400 are carried out each year.
Mr Regan said he expected the new treatment would cost more than the basic procedure.