Cornish couple seek help after dog falls in mine shaft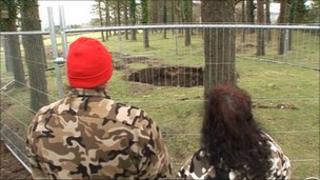 A Cornish couple have appealed for financial help to fence off a 70ft (21m) mine shaft after their dog fell down it.
Eighteen-month-old boxer Joshua was rescued by firefighters after the shaft at St Day opened up on 16 January.
Bridget and Frank Williams own the former Burrowland mine land and say there are six other sealed-up shafts.
The couple want to fence off all the shafts to prevent further accidents but cannot afford to do so.
Mrs Williams, who uses the land to house rescue animals, said she had "never seen a dog as frightened" in her life after Joshua fell down the shaft, which originally opened up to 20ft (6m).
After he was rescued her husband filled in the shaft using a digger.
"The next day, to our horror, the whole thing had dropped down over 70ft," Mrs Williams said.
'Rotting timbers'
Mark Kaczmarek, from the Camborne School of Mines, said the Burrowland shafts, which were used to mine copper, could be up to 500ft (152m) deep.
He said: "All of these shafts were probably blocked off about 100 years ago and just covered with timber and soil.
"Those timbers are now rotting, and extreme cold and wet weather has put a huge amount of weight on those timbers.
"All of a sudden you get a collapse."
Mrs Williams said she and her husband were checking the mine shafts every day to make sure no others had opened up.
She said they would like to fence them all off to protect their animals, which include a horse, goat, chickens, dogs and cats.
"The only ones who can take responsibility are us.
"We've seen the council, the Environment Agency, all sorts of people, but we are responsible and we have no money to do it."