Cornwall gorse fires treated as suspected arson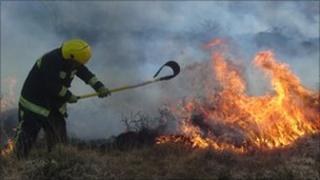 Firefighters have tackled another four large gorse fires in Cornwall over the weekend - two of which are thought to have been started deliberately.
Crews from St Columb were called out to gorse fires at Belowda Point and Demelza just before 1400 GMT. Beaters were used to extinguish the flames.
On Saturday crews dealt with gorse fires on Bodmin Moor and Boswarva Carn.
Cornwall Fire and Rescue Service has dealt with several gorse fires in recent days.
At least two fires on Thursday, at Goonhilly Downs and Molinnis, are believed to be the work of arsonists.
Gorse fires at St Columb Major and Tregoss Downs earlier in the week are also being treated as suspicious.