BBC Introducing: Louis Eliot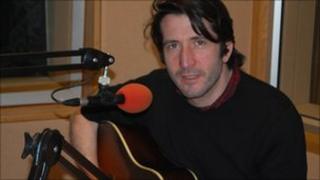 The former frontman of Kinky Machine and Rialto, Louis Eliot now fronts the Embers.
The band has recently released Kittow's Moor, an evocative collection of songs and Louis' first new album in half a decade.
Throughout his career Louis has been at the heart of British songwriting talent, most recently contributing two co-writes to Adventure Man by current Ivor Novello Songwriter of the Year, Eg White - yet another addition to the proven CV of an artist who can deliver a heart-stopping hit with easy charm.
Kittow's Moor is no exception, demonstrating more than ever Louis's extraordinary talent for wry observation and a rip-roaring, roller-coaster ride of a tune, but this time in the context of the countryside.
Over the years Louis has gained respect nationally.
The Times has described him as a: "True pop genius" while BBC Radio 2's Bob Harris called Louis: "My new discovery...really great stuff."
Having lived the dream of 90s London Brit-Pop hedonism, Louis Eliot snatched his Gretsch Country Gentleman guitar and headed west, swapping the Thames fog for the fresh air of Cornwall.
He returned to London in March 2011 as part of Kernow in the City, which showcased local talent on St Piran's Day.
Louis was supported by Cornish singer/songwriter Ruarri Joseph; medieval minstrels, Princes In The Tower and female morris-dancers, Belles Of London City who performed a specially-commissioned piece about the Cornish Rebellion of 1497.
Recently Louis popped into BBC Radio Cornwall to perform an acoustic version of his song Lucky Day. Click on the audio link to hear it.
Pull up to the bumper
As well as writing new material for the Embers, Louis is packing his bags for Australia and New Zealand. He's joining legendary '80s singer Grace Jones on her latest tour.
Louis said: "She does great big gigs and festivals. She's amazing. Grace had a new album out in 2009 and that has kick-started her comeback.
"It's going to be a lot of fun. She's very lovely, and definitely on a planet on her own, but in a very good way."