Lostwithiel's flooded bakery reopens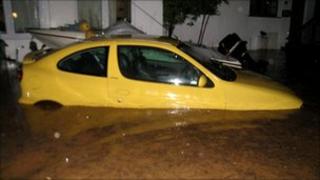 A business is reopening its doors four months after being devastated in floods which hit Cornwall.
Lostwithiel Bakery has replaced its flood damaged equipment and is trading once again.
Baker Barry Green said the only thing to survive "knee high" waters which swept the premises was the shop's oven.
About 230 homes and 400 businesses were affected by the flooding which began in the early hours of 17 November 2010.
Mevagissey, Lostwithiel, St Blazey and St Austell were among the worst hit areas.
Some people were left trapped in their cars and homes as the heavy rain and gale-force winds caused flooding and disruption.
Mr Green said at the time of floods: "It's been the most horrific time. The floods came about 5.15 am when we'd just started baking.
"It's been a real up hill struggle to get back up and running again. We lost just about everything.
"The only thing to survive was the original oven which was quite some way off the ground. It cleared the water quite well.
"We needed a brand new floor, ceiling, walls, new freezers and more."
Knee high
Many homes and businesses were affected by 4ft (1.2m) of water. The intense rain fall broke up the tarmac on some of the roads in Lostwithiel.
Mr Green said: "One minute it was just lapping at the front door with no problem and I was just lifting a few boxes then I opened the front door and it just came pouring through.
"The speed of it was very, very surprising. Within three or four minutes it was knee high."
Four months on there are still some businesses in Lostwithiel that have yet to reopen.
Mr Green said: "The beauty salon next door to us is very close to reopening. Sticks [shoe shop] on the High Street was hit badly. The owners have decided to reopen.
"Most people that did get washed out of their houses are now back in their homes."
Homes and shops in the fishing village of Mevagissey were also devastated by floods.
Traders there are working hard to ensure they are up and running for the holiday season.