Penzance powerboats race cancelled in cash squeeze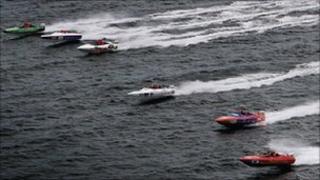 Powerboat racing will not be returning to Penzance in 2011 because of a shortage of funds.
The P1 Superstock event made its debut in Mount's Bay in 2010 and attracted 9,000 people.
Organisers had hoped to get £60,000 from Visit Cornwall towards the £120,000 cost of the May event.
Visit Cornwall said cuts in funding meant it could not support the event in 2011, but it may be funded in the future.
Funding 'challenge'
The event is the only one which Visit Cornwall had agreed not to fund in 2011, said chief executive Malcolm Bell.
"There is a challenge in this current funding climate," he said.
Funding for Visit Cornwall from Conservative and Independent-controlled Cornwall Council had dropped by £230,000 to £1.2m in 2011/2012.
Mr Bell said funding for the powerboats could return after a review.
"We are working with Cornwall Council and the Cornwall Development Company on a comprehensive review of festivals and major events.
"We want to make sure that we are supporting the right events in 2012."
James Durbin, commercial director of P1 Superstock, said: "We would have loved to have been back there.
"It was our first event last year and we were very keen to launch the season again in Cornwall in 2011.
"We think that continuity would have created a greater economic impact for the area."
Mike Waters, chairman of Penzance Chamber of Commerce, said: "We feel gutted.
"Last year it attracted 9,000 people and Penzance is the ideal venue for it."