Public anger at Cornwall meeting over coastguard plan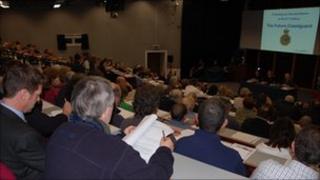 Opponents of the plans to cut back coastguard station cover around Cornwall have accused senior managers of presiding over "a done deal".
The Maritime Coastguard Agency (MCA) plans would see Falmouth reduced to daytime cover and Brixham closed.
At a public meeting in Penryn the cuts were described by one union official as "too deep and too strong".
But Tom Borland of the MCA told BBC Radio Cornwall they were "open to receiving ideas".
'Local knowledge'
Tracey Hawk-Treneer, of the Public & Commercial Services Union at Falmouth Coastguard, said: "People feel that the 999 service that we provide is a front-line emergency service and that these cuts are too deep and too strong.
"There's no evidence that the proposals would work."
Pam Johnson, whose father served as a coastguard, said: "You can't have someone in Birmingham directing a cliff-top rescue. It's local knowledge that's important."
Serving coastguard rescue officer Mike Yarnall said: "I'm very, very upset at what appears about to happen."
Mr Yarnall said he got the impression that despite the strong feelings expressed at the meeting, the plans appeared to be a "done deal" which would "put lives at risk".
But Mr Borland said the MCA had been working on its plans for two to three years and their public meetings did represent "true consultation".
"There are lot of people out there who are against it and that will be taken into account," he added.
The Transport Minister Mike Penning told the Commons earlier that he was extending the consultation period by six weeks to 5 May.
The move has been welcomed by the Conservative MP for Truro and Falmouth, Sarah Newton.