ShelterBox responds to Japanese earthquake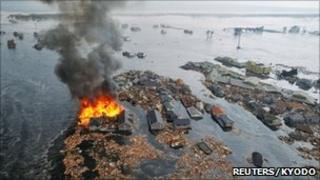 The Cornish-based charity ShelterBox is sending a response team to assist with the devastation after an earthquake and tsunami in Japan.
The quake struck the north-eastern shore of Japan at 1446 local time (0546 GMT) sparking a 13ft (4m) tsunami.
Powerful aftershocks followed, sparking fires in several areas including Tokyo.
ShelterBox founder, Tom Henderson OBE, said the charity had aid positioned nearby and was able to respond immediately.
"We also have extensive experience working in the region responding to similar disasters," he said.
Mr Henderson added that his team would be "at the front end, just behind the rescuers" and that the organisation would be working with the Japanese government and other agencies.
He said that team members were aware of what the situation was and how "everything's been literally overwhelmed" in the affected areas as result of the disaster.
According to US Geological Survey the earthquake was magnitude 8.9 at a depth of 20 miles (32km) with the epicentre 250 miles away (402km) from Japan's capital Tokyo.
'Catastrophic scenes'
An initial ShelterBox Response Team made up of ShelterBox field operations specialist Mark Pearson and international director Lasse Petersen was already mobilising.
Mr Petersen said: "The scenes we're seeing are catastrophic.
"Whole homes are being washed away and our thoughts go out to all the families who are facing this disaster.
"We continue to watch very closely the path of the tsunami. We're very aware the worst may not be over."
ShelterBox is an international disaster relief charity based in Helston, Cornwall.
It provides emergency shelter and life-saving supplies to families around the world who are affected by disasters.
The organisation is also helping families affected by disasters in Madagascar and New Zealand and Bolivia.
Teams from ShelterBox have now worked on every continent, responding to earthquakes, tsunamis, floods, typhoons, hurricanes, volcanoes and conflicts.
Each ShelterBox contains a tent for a family of up to 10 people. It can withstand extreme temperatures, high winds and heavy rainfall. The boxes also contain a basic tool kit and blankets.