Protecting Cornwall's Gorse land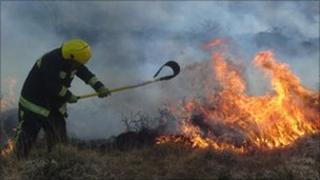 Firefighters from Cornwall are talking to children as young as five about the risks of starting fires deliberately.
The move is part of Cornwall Fire and Rescue Service's efforts to prevent a new generation of arsonists in the county.
In the last few weeks firefighters have had to tackle numerous gorse fires in Cornwall.
They say around half of these are thought to have been started maliciously.
David Carlisle, a fire prevention officer in Cornwall, said: "We're talking to youngsters from five to 18 years old. We've got a project we do with the police called the blitz project.
"This month we're visiting more than 20 schools when we talk to youngsters about the consequences of arson."
Tackling gorse fires can be tricky for the firefighters.
Firefighter Richard Sargeant said: "Sometimes the gorse can be 15 feet high (4.57 metres) and with the winds fanning the fire it can be going instantly past you, so you have to be alert.
"We tend to work in larger teams. At no time do we go out individually and fight these things because they can overcome you quite easily."
Gorse fires have been reported from as far north as St Breward to Pendeen in west Cornwall.
In total more than 250,000 sq metres of land has been burned in that time.
David Carlisle, a fire prevention officer in Cornwall, said: "It is a very challenging time. When a fire crew attend a gorse fire it's very difficult to predict how long they are going to be there.
"There are a number of factors that affect the length of time taken to control it. Very often crews simply have to contain a gorse fire and let it burn to a natural break."
Another factor is uppermost in the minds of many crews who are sent to tackle the gorse fires and then become unavailable if a more serious incident arises where lives could be at risk.
"While fire crews are at a gorse fire they're not somewhere else, perhaps doing something vitally important," he added.