Waste from Cornwall could be sent to Sweden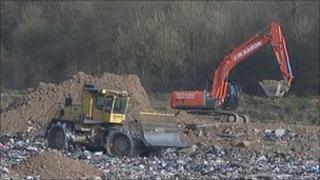 Tens of thousands of tonnes of rubbish could be taken by ship to Scandinavia for disposal, Cornwall Council says.
The council said landfill space shortages meant it could be cheaper temporarily to process rubbish at energy-from-waste plants in Sweden.
It added this would only be until its long-term waste policy was finalised.
County waste management contractor Sita UK said it hoped to establish a temporary processing plant as soon as possible if the plan went ahead.
Incinerator decision
The county's own landfill sites are expected to be full in five years' time.
Under the proposals, rubbish suitable for a waste-to-energy plant would be chopped up and baled at a plant at Connon Bridge, near Liskeard.
From there, it would be taken to a vessel ship in a South West port and shipped off. Each ship would carry about 3,000 tonnes of bales.
The move was being considered because the council said it was looking at every way of saving money as part of £170m of cuts it wants to make over four years.
It is also waiting for a decision from the Secretary of State in May about plans for Cornwall to have its own incinerator.
Julian German, the council's cabinet member for waste management, said the Sweden scheme would help address "the difficulties we face until our own long-term waste infrastructure is in place".
Stuart Higgins, Sita's landfill operations manager, said it made sense because there was a "huge energy demand in Sweden".
He said: "They're got capacity in their energy-from-waste plants to take that material, so it makes more economic sense to send it there, believe it or not, than to send it elsewhere in the UK."