Abandoned Newlyn fishing boat sinks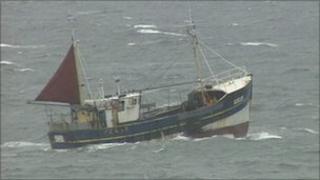 A fishing vessel which was being towed to land after it was abandoned off the Isles of Scilly has sunk, coastguards say.
Five fishermen had to be rescued when the Cornwall-based Ben My Chree started taking on water on Friday morning.
The then partially afloat 15m (49ft) gill netter was being towed by a fisheries protection vessel to remove it from a shipping lane.
It went down just over a mile (1.6km) off Gwennap Head.
After aborted attempts by a rescue helicopter from RNAS Culdrose to winch down a pump to the stricken Newlyn vessel, the decision was taken to abandon it.
Four of the crew were winched to safety, while one man was picked up by St Mary's lifeboat. No-one was hurt.
Coastguard stations
The Cornwall fisheries protection vessel St Piran secured a line to tow the semi-sunken vessel out of the lane.
The Ben My Chree went down while still under tow during Friday night, Falmouth Coastguard said.
South East Cornwall's MP said that the sinking added weight to the arguments that both Falmouth and Brixham coastguards stations should remain fully open.
Falmouth faces moving to daytime cover and Brixham could be closed completely under plans being considered by the Maritime and Coastguard Agency.
Conservative Sheryll Murray said the incident highlighted "most vividly" the need for local knowledge.