More findings at historic Cornish estate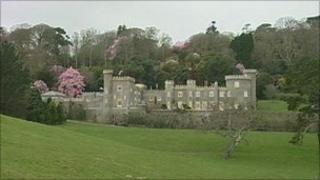 Archaeologists have uncovered fascinating details about one of Cornwall's much loved country estates.
Caerhays Castle was built in the 19th Century but now experts say they believe its heritage dates back much further to Jacobean times.
It has taken four years to uncover the earlier history about the castle.
A new book has been written about the Trevanion family, the original owners of Caerhays, who fled to France.
The book, named after its subject, features 677 pictures and illustrations. It has been written by Caerhays' current owner Charles Williams.
Mr Williams said: "It is a wide ranging introduction to over a thousand years of history."
The Williams family has owned the estate since 1860. Much of the history prior to the 19th Century has remained lost in time.
The Trevanion family sold all the papers about their property when they were declared bankrupt.
After years of searching auction houses and internet sites for the rare papers Mr Williams and his researchers believe Caerhays was built right on top of an Elizabethan house and garden.
Archaeologists say the tower at Caerhays could date back as far as the 16th Century. It was built as a look out so the residents could admire the formal gardens.
Mr Williams said: "The gardens were divided into mounts, one part would have been an orchard, another would have been to grow food, another would have been where the mill was, so there would have been water."
Seagull pie
A household book from the Trevanion period recently came up at auction which featured recipes and cures.
One of the recipes was for seagull pie. It is hard to believe that was once a popular dish of the day.
The Williams family hope to now recreate some of the Jacobean features they have discovered while researching the book.
There is also the ongoing tale of the 'lost' mineral collection, which will soon be revealed in all its glory.
The collection at Caerhays Castle had lain uncatalogued and largely hidden for more than 100 years.
It has now been rediscovered and some of the specimens formed a display which created a buzz of excitement at the 2011 Tucson Gem & Mineral Show, the largest of its kind in the world.
The collection now forms part of the house tours, which will begin in March.