Aid from charity ShelterBox arrives in quake-hit Japan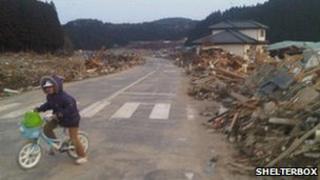 The first consignment of emergency aid sent from a Cornish-based charity has arrived in Japan.
ShelterBox has sent 20 boxes containing tents and survival equipment to Tokyo, 200 are en route and 5,000 are packed ready to go.
But a spokesman said there may be problems transporting the boxes to the areas worst-hit by Friday's earthquake and tsunami because of a lack of fuel.
The charity already has a team in north east Japan assessing the situation.
Team leader Mark Pearson likened the scene in the area around the city of Sendai to the aftermath of the 2004 Indian Ocean tsunami, which he was also involved with for ShelterBox.
He said: "There was a two-tonne car on top of a three-storey building.
"We travelled to Minamisanriku, north of Sendai, and there is complete devastation, with miles of debris and houses turned to matchsticks.
"There are food, fuel and water shortages and where we are, we're living inside of an emergency situation."
Mr Pearson said that some of the refugees were currently well housed, but without appropriate shelter would be unable to return to their home areas.
John Leach, ShelterBox's operations director, said: "We expect that tents will be needed in the north of Japan.
"In cold weather, without access to shelter, humans who are exposed to the elements really start to suffer, especially if they are wet."
Each ShelterBox contains a tent for a group of up to 10 people. It can withstand extreme temperatures, high winds and heavy rainfall.
The boxes also contain a basic tool kit, blankets and other survival equipment, like a camping stove.