Former child migrant returns to Cornwall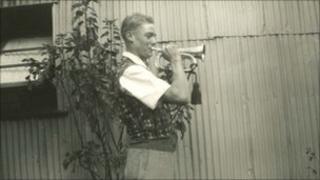 A Cornishman sent to Australia as a child migrant in the 1950s is returning home to honour a childhood friend.
Ken Pound was 14-years-old when he was sent to Australia with many other youngsters, who were dubbed the 'Lost Children of Cornwall'.
As a youngster Ken would regularly spend time in the peaceful surroundings of Falmouth's Fox Rosehill Gardens, which was next to the orphanage he grew up in.
There he became friends with the head gardener, Charles Rowe.
Ken, now 74, will be returning to Falmouth for the town's spring flower show, where he will present a trophy in memory of the late Charles Rowe.
Mr Rowe's assistant, Brian Phillpotts said: "He was a very young boy and would come into Rosehill during his holidays and weekends.
"He'd come in and take the sweeping brush from me and clean up. I think he came into the garden to get away from the other boys. He was one of the younger ones."
In 1951 the visits came to an abrupt end when Ken was sent as a child migrant to Australia.
Mr Rowe's granddaughter, Stephanie Quinn, said: "I think Kenny found it hard to accept kindness but eventually granddad won him over and taught him all he knew about plants.
"Kenny also used to help my grandfather with the Falmouth Spring Flower Show, carrying plants over to the Princess Pavilion where the show was held.
"He also entered the children's section of the show, and won many prizes."
Now Ken Pound is returning to the same show 60 years later to remember his gardening friend.
Ms Quinn said: "I think it's a wonderful idea. As a family we're very pleased that there will be a trophy there in memory of my grandfather."
Speaking from Victoria in Australia, Mr Pound said: "The home was nothing but a misery. I was five when I went there. I had an older boy who looked after me, who just instilled fear into me.
"In the gardens I found a sense of solitude and tranquillity."
The organisers of Falmouth's Spring Flower Show say Ken will be welcomed home with a pasty and saffron cake.
The show will be held at the Princess Pavilion on Saturday 26 and Sunday 27 March.
It will only be the second time Mr Pound has returned to Cornwall since he left 60 years ago.