Concern over proposed new housing in Cornwall villages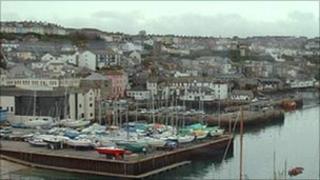 Some residents are warning of fierce opposition to a huge housing development earmarked for two Cornish villages.
Coastline Housing has revealed plans for 1,000 houses and bungalows at Longdowns and neighbouring village Rame, near Falmouth.
Half would be offered for sale or rent at affordable prices.
Several local people claim the existing villages would be swamped by the development.
'Holiday homes'
Ben Warner, who lives near Rame, said: "I haven't got over the shock yet. I believe Rame will be totally swallowed up with the houses all around."
The A394 road from Penryn to Helston cuts through the villages of Longdowns and Rame. A series of possible sites have been earmarked for housing in the area.
Mark Mitchell, who has lived in Rame all his life, said: "I think it would be detrimental to the area to have that much more volume of traffic.
"I have seen on letters from the council and Coastline Housing that there'd be some traffic calming. That should be done now."
But Bobby Platt, general manager at the Halfway House pub at Rame, said: "It could be good for business. If some of the houses are bought as holiday homes a lot of the times they won't be inhabited.
"At the very least we're bound to have more people coming in and having a drink."
The Cornwall councillor responsible for housing, Mark Kaczmarek, said: "There's a huge amount of pressure on Falmouth and Penryn for housing, and Rame and Longdowns are not that far away, but it is open countryside."
Coastline Housing declined to be interviewed. The association said the proposals were at an early stage. It said it was consulting with local people to see if they supported substantial growth in the area.
There will be a public meeting about the development at Wendron Cricket Club on Wednesday 30 March.