China plans to build Eden Project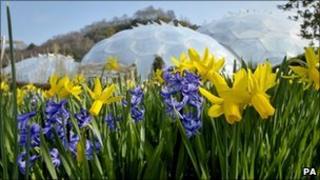 China is planning to develop a version of the Eden Project, the BBC has learned.
Tim Smit, head of the Cornwall attraction, said building on the China project could start in 18 months' time.
Mr Smit said: "I am very excited about creating Eden in different places."
As well as China, the Eden Project is also in talks with authorities in Singapore for an Eden-backed interactive experience to protect the environment of the island.
Mr Smit spoke as the Eden Project marks 10 years since it opened in a former clay quarry near St Austell.
He said each satellite Eden Project would be "different" but declined to go into further detail.
"We are in talks with China. A number of places would be very excited to have an Eden Project," he said.
"I would not be surprised if we were doing an Eden Project very soon."
'Smart people'
He said the Singapore project would be like an interactive computer experience in which people could make decisions about the island's ecology and habitat.
He compared it to the popular Sim Country computer game.
"We want to create a living Sim Country for them and their scientific community.
"So it's a fantastic tool both as a leisure destination and a planning mechanism for measuring sustainability on the island of Singapore."
He added that he was proud of Eden which cost about £140m to build, employs about 500 people and has put more than £1.1bn into the local economy.
He said: "When it was built a lot of smart people took a punt on Cornwall.
"Now you can see that people are coming to Cornwall to make a career rather than end it and that's a significant change that I'm proud of being part of."