Cornish amateur film-makers cause internet stir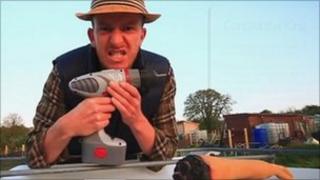 One of the most synonymous names in comedy in Cornwall has for many years been a certain 'Jethro'.
But a new character may be in line for the jester's crown.
A pair of entrepreneurial amateur film-makers are proving an internet hit with their humour and quirky take on Cornish life.
Edward Rowe, known to his online audience as the 'Kernow King', got his break after winning a TV-ad competition staged by tourism chiefs in California.
So how exactly did a small film camera, laptop and a good dose of Cornish humour cause such a stir online?
Former actor, 32-year-old Edward Rowe, from Ponsonooth, explains: "There was an advert for California on the TV. It featured David Beckham and Jay Leno, Arnie and a host of American stars.
"Right at the end of the advert it said, 'For your chance to win a trip of a lifetime upload your video'.
"Basically the advert was people in California thinking life is all fun and games, so people were talking about board meetings, but the board meetings were snowboarding and skateboarding.
"So the most obvious thing to do was to take the mickey out of it."
Alongside his friend and partner in comedy, cameraman Simon Bugler, they went out and shot their film in about 20 minutes.
"We didn't think too much about it really. It had lots of comments, some good, some bad. A lot of people outside the county didn't get it, but luckily the guys at the agency running the competition did."
The short video clip won and resulted in an all-expenses paid trip to California, where Kernow King and his family stayed in hotels on Sunset Strip, and also at Frank Sinatra's house in Palm Springs.
So did Kernow King ever suddenly wonder how he got there?
"Kernow King always wonders how he got there. I mean we're not doing anything different, we're just playing on great Cornish phrases like, 'Er no', 'Get on', 'Wasson' and 'Innum'."
The video has been well received in Cornwall and has since gone viral with people sharing Kernow King's Cornish meanderings.