A Swedish pilgrimage to Cornwall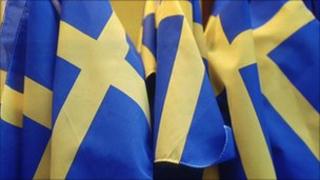 Two members of the Lutheran Church in Sweden have visited Cornwall.
Bishop Hans-Erik Nordin and Dean Johan Dahlman have been taking part in an exchange with members of the Diocese of Truro.
In December Bishop Tim and Canon Perran Gay went over to the Swedish town of Strangnas to share ideas.
Dioceses are encouraged to set up partnerships to recognise ministries and share ideas with other countries.
The Truro Diocese has just renewed its partnership with the Diocese of Strangnas for another five years.
Bishop Hans-Erik said: "It's very important for a church to have contact with other churches so you can reflect on your own identity and work."
Stragnas is based in central Sweden. Like Cornwall it includes large parts of rural scenery.
It contains an old university city and two significant industrial towns. The relatively small cathedral city is set by a large lake.
Dean Johan said: "We get a lot of knowledge from the Church of England.
"We live in a fairly different situation where 70% of Swedes belong to the church and pay a fee in relation to that."
The two Dioceses will continue to share theological dialogue, shared prayer and mutual exchange of thinking and resources.
This includes the establishment of parish links and ministry exchanges.