Funding for Cornwall homeless charity reviewed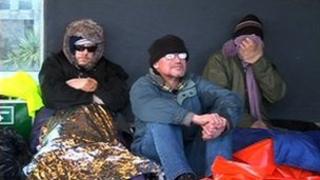 Cornwall Council is to review the funding it gives to the former secretary of a charity which provides accommodation for nearly 50 homeless people in St Austell.
The money is paid to John Coventry under the Adult Social Care and Supporting People (SP) budgets - the latter is facing a cut of 40% for 2011-12.
Mr Coventry is the owner of Cosgarne Hall. Cosgarne Hall Ltd is a registered charity which seeks to alleviate homelessness among the "vulnerable and socially excluded".
According to Charity Commission accounts for the period ending March 2010, Mr Coventry and his wife received more than £190,000.
Councillor Fiona Ferguson said: "If there is a great deal of money being made by a single individual in respect of supplying this type of service then it would be reasonable to ask if that is true value for money for the council."
In a statement to BBC Radio Cornwall, Mr Coventry, who is vice-chair of Cornwall's Supporting People's Providers' Forum, said he had held a contract with Cornwall Council since April 2003.
This had been renewed on an annual basis until 2009 when it was extended to three years.
"I therefore have every reason to believe that the SP team is very satisfied with all aspects of the service that I provide," he said.
Mr Coventry, a former partner in a property consultancy, said he believed in investing in buildings for letting which served a social purpose and running a business providing support for those who were homeless or who had drug and alcohol problems.
Since he started in 1996 around 750 people "have passed through my doors", he said.
Sleep-out organised
In a statement Cornwall Council said its contracts were regularly assessed "to check they are providing acceptable value for money".
It was also carrying out major sector reviews "to check that existing contracts are delivering the services that people in the county require".
The authority added: "We are following up concerns raised by members in relation to the service provided for homeless people at Cosgarne Hall, before making any further commitment to its level of funding."
In protest at the level of cuts to the SP budget, Mr Coventry helped organise a sleep-out which took place on the steps of County Hall in Truro on 13 February.
He said the authority's demand that providers cut their contract price by 40% had created a "climate of fear" among some of them but he had decided to speak out believing his SP contract was safe.
Mr Coventry subsequently learned that his SP contract "might not be as secure as it appeared".
This remained, he said, "the subject of on-going negotiation and possible legal action between me and Cornwall Council".