Engineers fined over Cornwall hotel death safety breach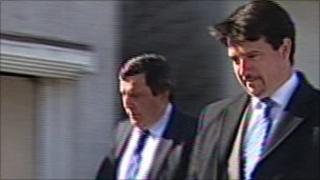 Two heating engineers have been fined for safety beaches which caused the death of a hotel guest from carbon monoxide poisoning.
Frederick Jackson, 52, from Llanelli, Carmarthenshire, died at the Great Western Hotel in April 2008.
Jonathan Mingo, 37, from St Austell, was fined £5,000 at Truro Crown Court. He was also ordered to pay £5,000 in court costs.
Philip Hodge, 49, from St Austell, was fined £2,000 and will pay £2,550 costs.
Mingo had also been accused of manslaughter but was found not guilty.
Hodge had admitted failing to discharge his duty under gas safety regulations.
Paramedics ill
Mr Jackson died while staying at the hotel on a business trip. After becoming concerned for his welfare, staff found his body slumped against a door in his bedroom.
Paramedics called to the scene also reported feeling ill.
Realising it may have been carbon monoxide, they raised the alarm and the hotel was evacuated.
The trial heard that, several years before Mr Jackson's death, Hodge was responsible for commissioning the boiler system and Mingo had been responsible for overseeing the fitting of the new boiler and flue.
The flue ended just short of a bathroom window in one of the guest rooms.
Mingo told a colleague to screw up the window but when the hotel was refurbished several years later, the window was changed for one that opened, the court heard.
Tests on the flue after Mr Jackson's death showed how smoke from the flue could pour in through the window.
Simon Jones of the Health and Safety Executive said the case showed that gas engineers had to "make sure the products of combustion can't enter an area where it can pose a hazard to anyone."