Highways Agency's £38,000 on Dobwalls' house security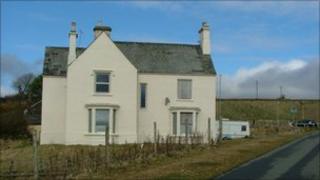 The Highways Agency has been criticised for spending more than £38,000 of taxpayers' money on security guards for an empty property in Cornwall.
Great Twelvewoods farmhouse was purchased by the agency during the building of the Dobwalls bypass, completed in 2008.
Parish councillor Peter Scott said the £38,000 spent on the farmhouse over the past 12 months was "excessive".
The agency said the security guards were to prevent "damage and trespass".
The farmhouse and surrounding farmland was bought in April 2005 to enable the construction of the £54m Dobwalls bypass.
'Austere times'
Three years after the bypass opened, the property is still empty and the agency told the BBC that the cost of providing a security guard during the current financial year had been £38,615.
Mike George, Cornwall councillor for Dobwalls, said: "We live in austere times and every penny counts.
"To have buildings like this in Cornwall that are derelict, that could be made very useful, they should be brought on stream."
The Highways Agency, which is funded by government, said: "A security guard was placed at Great Twelvewoods to prevent damage and trespass.
"The property was not refurbished because it was inaccessible during the construction of the road scheme."
The agency has also paid more than £12,000 to provide security guards for a riding school in St Columb.
It said it hoped to sell both properties during the coming financial year.
Mr Scott said: "It's excessive... I can't believe they're going to get £38,000 more by selling [Great Twelvewoods] next year than they would have done last year."