People urged to say they are 'Cornish' on census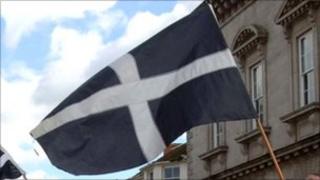 People in Cornwall are being encouraged to state their nationality as Cornish in the 2011 census.
The county's unitary local authority is telling people via its website and posters that it possible for them to do in the UK-wide survey on 27 March.
The option is not printed on the forms, but is allowed to be written in the "other" box in question 15.
MPs, Cornish nationalist political party Mebyon Kernow and the Celtic League said they supported the option.
'Be proud'
Mid-year population estimates by the Office for National Statistics said the county's population was about 531,100 in 2009.
Mike Chappell, secretary of the Cornish branch of the Celtic League, said the council should be commended for its efforts.
He said: "In 2001, we had just over 37,000 people saying they were Cornish in the census.
"But the data we have from schools shows that more and more children, and of course their parents, are putting down 'Cornish'. It is an encouraging sign."
Councillor Dick Cole, leader of Mebyon Kernow, said: "The important thing is for Cornish people to take advantage of the census.
"It is to show that our nationality is an important issue that we want the government to recognise."
MPs backing people to say they are Cornish include Newquay and St Austell Liberal Democrat Stephen Gilbert and St Ives Lib Dem Andrew George.
Mr George said he was encouraging those who preferred to identify themselves as Cornish to do so.
He said: "The Cornish have every right to be proud of who they are and entitled to assert their identity in the census."
Calls to have Cornish registered as an official British nationality in the Census were rejected by MPs in 2009.
The census takes place every 10 years and allows the government to collect information on citizens in order to plan spending on services including housing, education and transport.
Some 25 million paper questionnaires are being distributed. People can also complete the census online for the first time.