Truro Hospital parking fears for staff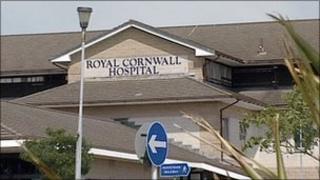 Staff at the Royal Cornwall Hospital in Truro are being urged to give up their parking permits because the number of parking spaces is being cut.
Some 130 spaces will be lost during building work on a new premises for medical companies.
Managers have urged staff to use Truro's park-and-ride scheme, but some nurses say this is not always available to suit their shift times.
The Unison union said it would take up the issue on behalf of staff.
Spokesman Stuart Roden said: "I think if staff who work shifts are on nights they need to make themselves known to management or come to see their union representative and we can discuss individual cases on their behalf."
The hospital's trust says it hopes to extend another car park, but that would still mean the loss of 85 spaces.
Garth Weaver, the trust's associate director of planning and projects, said: "We are actively communicating with staff at the moment with a daily bulletin. We've been putting posters on staff cars.
"We do need a certain number of people to surrender their permits. Ultimately if they don't they're going to come to work, some people, and actually find the car parks are full."
The development, a Wellbeing Innovation Centre, provides offices, laboratories and meeting rooms for private companies. It will complete a trilogy of innovation centres in Cornwall. The others are at Pool near Camborne and Tremough in Penryn.