Cornish pubs call for kind Budget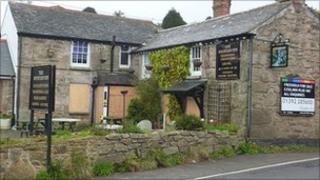 Landlords have claimed more Cornish pubs will be forced out of business if the Chancellor puts up the cost of a pint in the Budget.
Four pubs across Cornwall have closed in 2011, and about 40 more are currently on the market.
The pub trade in Cornwall is worth £240m to the local economy.
Publicans have said they can not compete with cheap alcohol being sold by supermarkets.
The British Beer and Pub Association said it feared George Osborne would put up the duty on beer by 7%.
This is because of the so-called beer duty escalator which adds 2% on top of inflation.
At least 40 pubs are for sale in the county.
The London Inn in Summercourt, mid-Cornwall, has been on the market for nearly three years.
'Big shame'
Landlord Dave Chace said he had dropped the asking price of his pub by £100,000.
He said: "Three years ago, initially, the interest was really good. There were a number of viewings, resulting in a couple of offers.
"But since the recession has come along, the offers are no more."
The Fountain Inn at Newbridge, near Penzance, is boarded up with a "for sale" sign outside.
Villager Jason Simcock, said: "I would go in there for the odd drink to catch up with people and find out what's going on.
"Newbridge doesn't have a post office or a general shop where people can go and meet up. I think it's a big shame for us."
The New Inn at Goonhavern, near Newquay, does well from the tourist trade during the summer season, although takings have fallen steeply in recent years.
Landlord Gary McNaughton said: "People who used to come in every night for a couple of pints are now coming in once or twice a week for one pint.
"The government is hitting the pubs so hard, people just can't afford to pay the price that beer is at the moment."