Worldwide choirs head to Cornwall for festival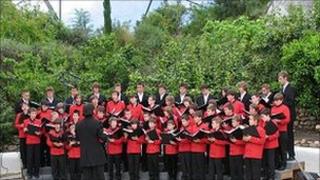 The fifth Cornwall International Male Voice Choral Festival is the largest of its type in Europe.
It runs from Wednesday 27 April to Monday 2 May 2011.
It is set to be a busy weekend as it coincides with the Royal Wedding. However the busy programme will go ahead as planned.
The festival will include over 60 choirs, from 11 nations, from Cornwall, the UK and across the world.
They will be performing concerts in 30 different, diverse and stunning venues throughout Cornwall.
Some of the featured choirs who will be performing are from as far as Russia, Nepal and Helsinki. Others are as close to home as Newquay, Mevagissey and Launceston.
Some of the venues include Truro Methodist Church, St. Andrew's in Redruth and St. Elwyn's in Hayle.
The venues vary from historic houses (like Lanhydrock House), to castles (like Pendennis Castle) to places of natural beauty (like The Eden Project and Lost Gardens of Heligan).
Peter Davis, the Festival Director, said: "Cornwall has the highest number of Male Voice Choirs in the whole of the UK per head of population; higher than Wales, higher than Yorkshire.
"That heritage deserves celebration. It deserves bringing people together and it's just a huge privilege to be part of".
No matter where you live, you can guarantee that there will be somewhere close to you where you can hear the heavenly voices of these choirs from close to home and around the world.
BBC Radio Cornwall's presenters will be hosting many of the concerts:
Thursday 28 April: Falmouth Methodist concert, featuring the Dubna Boys Choir from Moscow, will be compered by Daphne Skinnard
Friday 29 April: Lostwithiel's concert at St Barts will be presented by Michael Taylor
Saturday 30 April: St John's, St Austell will feature the Warsaw Boys Choir. It will be hosted by Martin Bailie
Paul, St Pol - Ross Ellis will host the Lubomir choir.
Sunday 1 May: Camborne Wesley Methodist will be compered by Donna Birrell and will feature the Espoo Male Singers.
Newquay, St Michael will be hosted by Daphne Skinnard and include the Sons of Lafayette.