Blitz baby meets her saviour's sister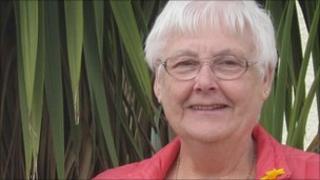 A woman found alive as a baby in the arms of a student nurse during the Plymouth Blitz has met the sister of the woman who saved her.
About 20 newborns were among those killed at Greenbank Maternity Hospital by a bomb during the World War II raid.
Four-day-old baby Gwen Lowe was found alive in the arms of student nurse May McGuirk, who died in the raid.
In an emotional scene, Margaret Radmore, the sister of Nurse McGuirk, met Ms Lowe.
'Extra proud' of sister
Until their meeting, Ms Radmore had always assumed that the baby her sister rescued had also died.
As she waited anxiously to meet Ms Lowe, now 70, in the hospital reception, she said: "I was told in the hospital that my sister had been found in the stairway with a baby in her arms.
"I've always been proud of my sister but now I'm extra proud to know the baby lived."
A special service was held at Derriford Hospital's chapel to mark the 70th anniversary of the Blitz and remember the 19 children and six staff who died in the city's maternity ward.
Candles were lit in remembrance of everyone who perished.
Ms Radmore and Ms Lowe met and exchanged memories.
Ms Radmore explained: "It was absolutely wonderful. If it wasn't for her sister, I wouldn't be here".