Bishop appoints new Archdeacon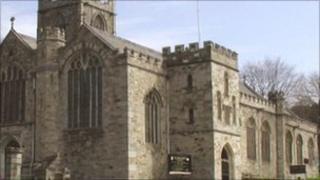 The Bishop of Truro, the Right Reverend Tim Thornton, has announced the appointment of the Reverend Canon Dr Audrey Elkington as the new Archdeacon of Bodmin.
The news follows the retirement in May of the current Archdeacon, the Venerable Clive Cohen.
Dr Elkington joins the Diocese of Truro from the outskirts of Newcastle, where she was born and now currently serves.
She has conducted 23 years of active ministery in the area.
Dr Elkington read Biochemistry at St Catherine's College, Oxford, and spent four years in Norwich conducting research into the molecular genetics of a soil bacterium.
During this time, she sensed a calling to ordained ministry and met her husband.
After completing her training at St John's College, Nottingham (and through the East Anglia Ministerial Training Course), they moved to the Diocese of Newcastle and have been there ever since.
Dr Elkington said: "It's actually been a bit of a whirlwind, after going down to Truro last week, I suddenly find my life turned upside down."
The decision to move was not all her own, she feels God played a hand in it.
"It's been a bit of a surprise that he has ended up calling both me and my husband down to Cornwall.
Welcoming her to the Diocese of Truro, Bishop Tim said: "I am delighted with the appointment of Audrey and look forward to welcoming her to the diocese in July.
"She has a range of skills and experience which will be very helpful here in Cornwall."
Dr Elkington will be the Diocese of Truro's first ever woman Archdeacon.
BBC Radio Cornwall's Donna Birrell asked her how she felt about the fact that her appoinment may prove a step too far for some people here.
"I would trust that it wouldn't prove a step too far to be totally honest.
"I won't be doing anything different than women priests already do in the Diocese in terms of their priestly functions.
"A lot of the stuff that I will do as the Archdeacon will not be priestly in that sense of the word, it's kind of administrative and pastoral more than anything else."