ShelterBox tents go up in Japan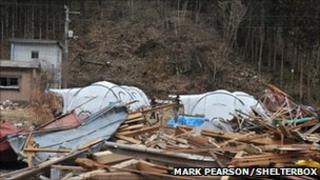 The first Japanese families have moved in to ShelterBox tents less than two weeks after the earthquake and tsunami.
A quarter of a million people were made homeless in the disaster.
The tents have been set up in villages in the Iwate Prefecture, where police say almost 11,000 structures were totally destroyed.
The equipment provided by the Cornwall charity allows families the freedom to move back to where their homes stood and begin the process of rebuilding.
More ShelterBox tents have been requested across the region.
Mark Pearson, ShelterBox field operations specialist, said: "People have been living in very cramped, confined conditions in emergency shelters, cars, hotels and shared accommodation for nearly two weeks now and the cracks are starting to show."
The death toll has already climbed above 10,000. The cost of total recovery has been estimated at £189bn.
Mr Pearson said: "Temporary housing is being built but the sheer scale of this disaster means that it will take time to provide suitable housing for the estimated 261,000 people living in evacuation centres."
A ShelterBox tent is large enough for an extended family. It can be put up inside a communal emergency shelter to provide privacy for the ill or the elderly.
ShelterBox volunteers were on the ground in Japan less than 24 hours after the earthquake struck.
The Helston-based charity has worked on every continent, responding to earthquakes, tsunamis, floods, typhoons, hurricanes, volcanoes and conflicts.