'More than 1,000' from Cornwall take part in protest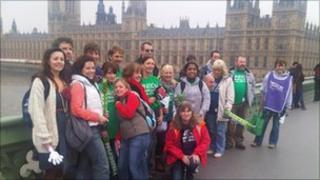 More than 1,000 marchers from Cornwall took part in Saturday's protest against government spending cuts, according to a local union representative.
Stuart Roden, from Unison, said Cornish men, women and children travelled to London, with the first coach leaving Penzance at 0200 GMT.
The Trades Union Congress said between 250,000 and 500,000 people attended the march.
The government said it would not change its deficit-cutting strategy.
Stuart Roden, from the public sector union, Unison, said: "We all wanted to make our statement that there is an alternative to the cuts the [coalition government] is inflicting on both Cornwall and the rest of the country.
"For everyone of us who took part many more wished to attend."
Candy Atherton, chair of Cornwall Labour Party, said: "There is real anger in the community about the cuts being imposed by both the government and Cornwall Council."
South West members of the National Union of Teachers carried a Cornish banner on the march reading: "Adhyskans ny wra trohow sawya nevra" (Education cuts never heal).