Cornish coach firm Williams cancels royal wedding trip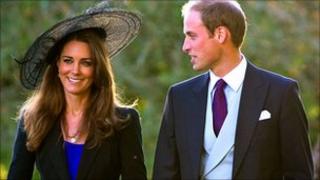 A Cornwall coach tour operator has been forced to cancel a trip to London for the royal wedding blaming a lack of interest.
Williams Travel from Camborne said European travellers seem more enthusiastic about the wedding.
Independent tour operator Newmarket Holidays said it had not received any bookings from Cornwall for its transport to London for the occasion.
Train company First Great Western revealed there has not been any increase in numbers booked on the Penzance to Paddington line.
Paula Hoskin, tours manager at Williams Travel, said: "We had the break on sale for some time but we had to cancel it because we only had eight passengers booked.
"Despite lots of advertising it didn't take off. We were surprised. We wanted to part of an event like this."
Street parties
Cornwall Council has revealed that it has only 31 applications for street party licences.
In 2002 St Mawes on the Roseland was awash with flags, bunting and street parties for the Golden Jubilee celebrations.
Residents even made a gold coach for a re-enactment of the coronation.
So far there have been no applications for a street party from St Mawes.
Joe Little, managing editor for Majesty Magazine, said: "I think in Britain we're slow to react to such things.
"Come 29 April there will be all sorts of activities going on so I wouldn't be unduly concerned at this moment in time."
Mr Little said he expected street parties would reappear for the Diamond Jubilee celebrations.
"You could argue the wedding next month is a warm up for that," he said.
The wedding will be marked by a national holiday in the UK and with the extra holiday falling in the same week as Easter Monday, millions of workers will do a three-day week.