Cornish youngster chases the gridiron dream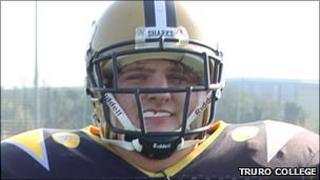 A student from Truro College is moving to the United States after winning a sports scholarship to play American Football.
Seventeen year old Ryan Girling only took up the sport a year ago, training with the Cornish Sharks team in Newquay.
The youngster will spend the next four years at Graceland University in Iowa.
He will train with a football team and carry on with his academic studies.
Ryan said: "It's outstanding. I never thought I would even dream about going to the States.
"I never thought I would get out of Cornwall playing football.
"Some of the guys I will be training with have been playing for years."
It is unusual for a British student to gain a sport scholarship in America, especially for the popular US sport. The Cornish Sharks team is hoping Ryan will be the first of many.
Head Coach Brian Smallworth told BBC Radio Cornwall: "For him to be picked up by Graceland is unique. We've already got two more earmarked for next year as well.
"For a Cornish youngster to be of a standard to play college football in the United States, is a fantastic achievement.
"He is an inspiration to all Cornish youngsters but also to kids who found sport a challenge when they are young.
"He has broken the mould and worked hard and he deserves this very special opportunity."
Ryan will fly out to America in August to begin his training.
His mum, Carol, said: "I am immensely proud and delighted he has the chance to spend time in another country, do his education, and experience football in America."
Ryan will be training with the Graceland University Yellow Jackets.
On the team's website a Jackets' spokesman said: "Girling will come to Graceland next fall as a 315lb offensive/defensive lineman who should be an impact player for the Jackets next season."