Aorta screening programme begins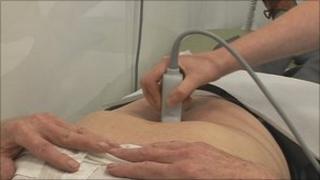 Men aged 65 and over are benefiting from a new screening programme aimed at the early detection of aortic aneurysms.
The Royal Cornwall Hospital in Truro and Derriford Hospital in Plymouth have joined together to tackle the condition.
An aortic aneurysm is a widening or bulging of the aorta - the largest blood vessel - in the abdomen.
It usually occurs at a weak spot in the aortic wall.
The aorta carries all the blood that is pumped out of the heart and distributes it to the organs of the human body.
Consultant vascular surgeon Jamie Barwell said: "This simple, painless scan can really tell us whether the person has a normal blood vessel coming down through their tummy to their legs.
"Or there might be a swelling on it, which if that isn't treated, can be fatal."
Men are six times more likely to have an AAA than women. The risk increases with age, smoking and high blood pressure.
South West screening coordinator Gwynedd Williams said: "We can pick up the condition at an early stage.
"If it goes undetected this condition is generally asymptomatic so people don't know they have got the condition."
For the next year more over-65's in the South West will be invited to attend a screening.
After that trial period men will be automatically sent an invitation soon after their 65th birthday.