Calls to farming helpline increase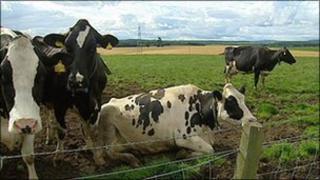 A support group for farmers in Cornwall has seen the number of calls to its helpline increase by more than 300%.
In the first two months of this year, Farm Crisis Network (FCN) took 118 calls, up from 31 for the same period in 2010.
Much of the increase is accounted for by concerns about financial issues, said FCN.
Many farmers are concerned about the delay in receiving last year's single payment from the European Union.
FCN began its work in 1995 as a Christian response to the high suicide level among farmers.
The helpline is manned by volunteers who work in the agricultural industry.
Cornish farmer Brian Warren said he had taken many calls recently.
"Some of these people are facing having to sell up. Some sell off a few acres of land, but it's only a short term solution.
"You're back to square one if you're not careful, with less land. You're killing the goose that laid the golden egg."
'Fresh start'
The farming charity ARC Addington is working to offer Cornish families help if they have to leave the industry.
It has taken over some redundant farm buildings and is converting them into homes and studios designed for people wanting to get out of farming.
Ian Bell, from ARC Addington, said: "These people work hard, they are capable of running a business. They have gained skills out of necessity.
"We're going to give those families the opportunity for a fresh start."
One farmer, Sandy, is giving up dairy farming because she cannot make enough money out of milk.
"You sit and cry, but you don't cry in front of your family. You cry secretly. You don't want them to see your despair," she said.
With ever-increasing production costs, FCN said it was unlikely the number of calls would fall over the coming months.