Captain Cook's book found in Cornwall, sold for £130k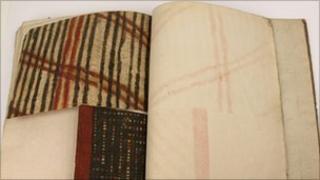 A rare book of cloth that was collected by voyager Captain Cook has sold for £130,000 after it was discovered in a property in south east Cornwall.
Published in 1787, it contains 39 cloth specimens collected during Cook's voyages to the southern hemisphere.
The book was discovered in a property after the owners passed away.
It is believed only 30 copies are known to have survived, all of which are unique due to size, quantity and shape of the samples they contain.
Auctioneer Richard Bearnes said the book could have easily have been thrown away as it resembles a boy's stamp album.
He said: "It is an important book because Tapa cloth, of the sort if contains, is no longer made in that part of the world and it connects us directly to the natives of such places at Hawaii, Tahiti and Tonga before they had any real contact with Western civilization."
The book which is bound has an unusually long title - A Catalogue Of The Different Specimens Of Cloth Collected In The Three Voyages Of Captain Cook, To The Southern Hemisphere; With A Particular Account Of The Manner Of The Manufacturing The Same In Various Islands Of The South Seas.
The buyer is believed to be from the UK and was present at the auction in Devon.