Cornwall Council moves South Crofty mining plan forward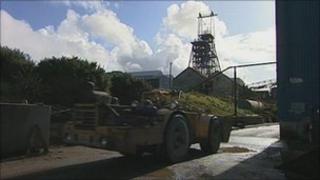 Proposals to restart mining work in west Cornwall have been moved forward following a decision by councillors.
Members of Cornwall Council said they were unanimously expressing their support to grant permission for major new buildings at South Crofty.
Mine owner Western United Mines (WUM) applied to be allowed to build and install modern facilities. It also wants to extend underground working.
South Crofty was the last working tin mine in Europe when it closed in 1998.
Environmental concerns
BBC South West business correspondent Neil Gallacher said that while the support was given on Thursday was a move in the right direction, two question were still unresolved.
Can the mine secure more land that is needed for it to build on? That depends on the approval of a large road scheme nearby.
Will the Environment Agency give its blessing on proposals for dealing with drainage and contamination? Without that, it will not get signed off.
The building application relates to moving infrastructure across the 2.5 mile (4km) wide site to the Tuckingmill Decline mine entrance.
The move would make operations more convenient by having facilities closer to where mining would be carried out.
If it goes ahead, the scheme would also remove the blight of prominent buildings on the site near Camborne which have stood derelict since the site closed.