Plans for railway radio mast in Cornwall abandoned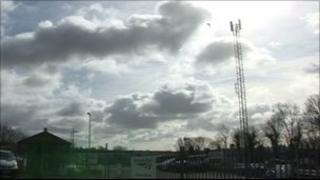 The building of an 80ft (24m) railway communications mast between Liskeard and Looe in Cornwall has been halted after opposition from nearby residents.
Network Rail was criticised for poor consultation over plans for the mast.
The company said it was considering building several smaller masts along the branch line instead.
It said its new national communications system for train drivers would improve safety and help safeguard the future of branch lines.
'Unacceptable position'
Representatives of Network Rail met with objectors and local councillors on Thursday to discuss the mast plans and concerns over its location in Sandplace and its height.
Critic Steve Wright, who lives directly opposite where the mast was to be completed, said they "immediately agreed that the position was unacceptable".
He said: "It was as totally different approach by them and they were willing to listen and consider the arguments we put forward.
"Visually it was terrible. It ruined the whole look of Sandplace; and there were other considerations, such as it being a road hazard.
"I think that finally they felt they had to listen to us."
Network Rail said it was pleased to have been able to work with residents to reach a satisfactory compromise.
It said: "The unique topography and operation of the Looe Valley railway has allowed us to consider an alternative solution, which could be less intrusive to residents yet achieve 100% communication coverage to run trains safely."
The company said it had invited key community representatives to help identify replacement sites for the smaller structures and that it hoped to present new plans in May.