Bosence Farm drug unit fears funding future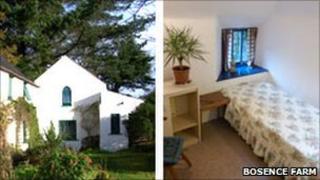 The head of a Cornish drug and alcohol rehabilitation unit says he fears changes in government funding could threaten its future.
Bosence Farm near Hayle, treats patients on programmes lasting from nine to 12 months.
Derek Mace says he fears these may now be cut back because of the uncertain economic climate.
The Department of Health says a final decision will not be made until later this year.
Bosence Farm has been providing residential help for people with drug and alcohol dependence since 1995.
Mr Mace said: "Those people who stay around for nine or 10 months are the ones who are best equipped to engage properly with the wider society and stay off drink and drugs on a permanent basis."
The addiction recovery programme includes psychotherapy, yoga, meditation and relaxation.
Staff use a 12-step programme recommended by Alcoholics Anonymous and Narcotics Anonymous.
'Amazing benefits'
Jack, who has been a patient at the farm for nine months, said: "I came to save my life really. I would be dead otherwise, I took heroin, alcohol, pills, anything really.
"This is the first 12-step programme I have ever tried. The benefits I am getting from it now are amazing. If I left after six months it would have been a complete waste of time. You're going straight back into the lion's den."
Bob Crossland, of the Cornwall and Isles of Scilly Drug and Alcohol Action Team said, he was more optimistic about funding.
"Payment by results is a worry for a lot of people for lots of reasons, but it's also a potential opportunity to get more money in the future."
A spokesman for the Department of Health said a number of pilots would be run throughout 2011.